Melbourne Bathroom & Toilet Cleaning Specialists
Melbourne's Professional Bathroom & Toilet Cleaning
Whether you are a job person or often dislike cleaning your bathroom area, we have got you covered! KK Cleaners is a top-rated business firm that specializes in refreshing your bathroom and toilet. When it comes to cleaning your bathroom, we deep clean every corner of your toilet and restroom. We're accredited, experienced, and insured bathroom cleaning experts  in Melbourne. 
Our bathroom cleaners in Melbourne work flexible hours and promise to deliver service on time. We charge no extra time and money from our valuable customers. 
So, if you find us suitable and really looking for the top-rated bathroom cleaning services near me then give our experienced cleaners a call. Our professional toilet cleaners in Melbourne, are certified and has the ability to handle your bathroom with utmost care and attention. W've got everything covered and own necessary equipment and tools to deep clean the dust particle, remove dirt or any kind of mud present in the corners of your space. All you need to do is contact our team, share your place details, and get the best quote for your bathroom cleaning services.
Get the original feel of your toilet with expert bathroom cleaning services in Melbourne!
Why we are the best choice for cleaning your bathroom?
Most people in Melbourne hate to clean their toilets. However, the reasons can be many! Few say they don't have time due to their busy schedule and others completely dislike doing this job alone. 
Cleaning a bathroom is pivotal. It is one of the tasks that need to be done properly by using perfect quality cleaners and solutions. 
It leaves no effort back to keep your bathroom clean and smell-free to stay safe. If you think your bathroom is clean, then it doesn't mean there are no bacteria in the cleaned areas. So, to avoid and get rid of germs, it is beneficial to hire trained cleaning professionals to help maintain sanitary and healthy bathroom environments for your facility. 
If you are looking forward to cleaning your business and house bathroom area, then hiring bathroom cleaning experts can help! Offered by the bathroom and toilet cleaners using the latest eco-friendly, specially developed bathroom cleaning solutions, this is the easy way to handle this part of your continuous cleanliness routine without you putting any effort.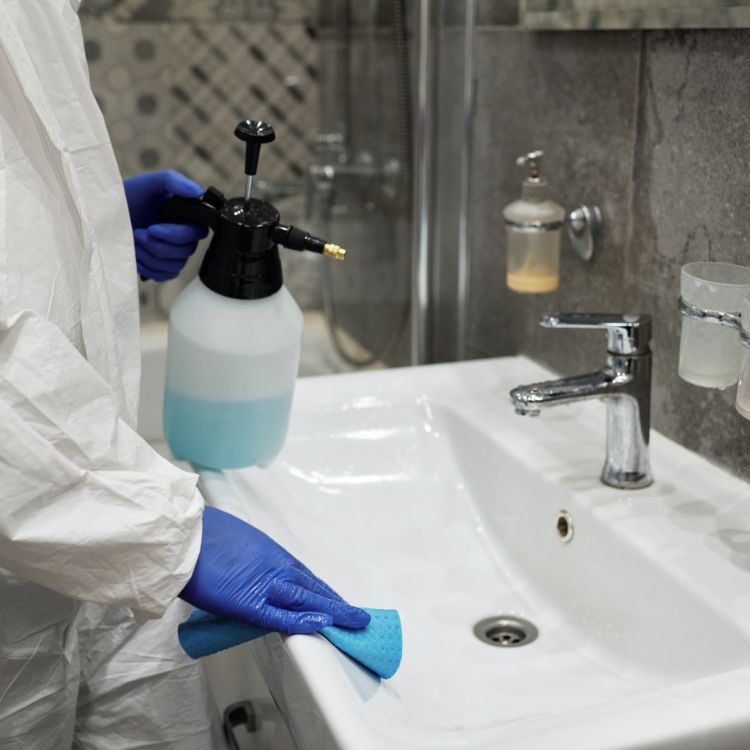 What is Bathroom Cleaning?
Bathroom cleaning services in Melbourne simply mean getting free from dust and germs present on tiles, shelves, and corners of the bathroom. The bathroom tends to attract dirt and dust and it is often one of the most stubborn areas to keep clean, something that always requires cleaning in the bathroom. If you don't clean your bathroom and you are surely going to have the disease and you might feel embarrassed when seeing people around. You can take it on you, how do you feel when you make a visit to someone's house and you require a toilet and it is so dirty? Cleaning a bathroom is essential for hygiene reasons and you don't want germs spreading in your home that would've been avoided with a deep clean.
Finding bathroom cleaning services near me?
Well, KK Cleaners is a well-known name in the cleaning industry. Also, we serve commercial and residential services to customers as per their high demands. are more reasons to choose our company and our team. Have a look!
Bathroom and Toilet Cleaning Made Just for You
Do you find bathroom cleaning a dirty job or time-consuming? Undoubtedly, many of us will answer "yes" to this question. At KK Cleaners, your satisfaction is our foremost priority and the main objective of our cleaning business. Our cleaning experts in the Bathroom make your bathroom area and toilet clean, and dirt-free. 
We deliver bathroom cleaning services in Melbourne in less time and at a very affordable price. We take pride in ourselves in offering top-class bathroom cleaning services in a fast, effective, and polite manner. 
Our Expert Bathroom Cleaners Will Clean Your Toilet & Bathroom
KK Cleaners gives you an option to book the bathroom cleaning service in Melbourne online. Whether you are at the office or relaxing on your balcony, you can easily book our service by visiting our website and hiring us for your bathroom cleaning need. Once your cleaning is complete, you will be asked to rate our service and the quality of the work our cleaners delivered to you.  
Sit back & Relax! Let Us Bring Back Shine to Your Bathroom
What Makes Our Cleaning Services Unique?
KK Cleaners ensure the most unique and high standard cleaning for your space. Doesn't matter whether it's your bedroom, kitchen, courtyard, workspace, or conference room; our team is comfortable in cleaning all spaces.
Now, let's have a look over our unique qualities. 
What Our Clients Say About Us?
It seems to be well, and worth it service by them. All cleaning work well. Cleaners make our washroom shiny
Wilbo Joe
The best cleaners I knew in my area. Clean my entire washroom and clean very gently so no dust particles
Wendy Bis
"This is the first cleaning assistance I've operated where I have no scruples whatsoever. I'm using this service again for
Sheldon Eva
"Amazing cleaning services. Cleaners take Approx 3 hrs to clean the kitchen but the end of the result is quite
Brooke
"KK Cleaners are amazing. They cleaned my kitchen so perfectly and removed every dust particle from the surface. I would
Mark Smith