Professional Wall Cleaning Services in Melbourne
Expert Wall Cleaning Services in Melbourne
Are you worried about the mold and grease accumulated on the walls at your place? Are you consistently noticing that the paint on your walls is losing its shine? Does your walls have furniture scuff marks, greasy spots, etc.? It can be the perfect time to hire KK Cleaners for end-to-end painted walls cleaning services.
It is no more difficult to enhance the life of your every wall with the professional dirty walls cleaning from KK Cleaners. We promise to preserve your intricate and expensive paintwork while accumulating natural sunlight. It can be the perfect time to hire KK Cleaners for end-to-end painted walls cleaning services. We use the best quality cleaners and trained team for getting the shine back on your walls. Whether you want to clean the walls or ceilings, we've sorted all with our walls and ceilings cleaning services in the town.
Get the best quotes for your painted walls cleaning services today! You can call or write to our team to book yours now!
Get a clean and initial fresh look at your place with the painted walls cleaning from KK Cleaners!
Top-Class Painted Wall Cleaning Services at KK Cleaners
Wall washing is not a cakewalk and when it comes to painting, white, or marble walls, all you need is professional wall cleaning services from KK Cleaners. Our team is trained to pay attention to details and hence offer high-quality results for every wall at your place. 
Lightly colored painted walls may lose their shine and accumulation of sunlight to dust and grease over time. Hence, if you want to welcome sunlight to your place, you can go for our detailed white wall cleaning services.
Are you worried about getting your wall cleaning done at odd times? We're here for you and that too without any hidden charges!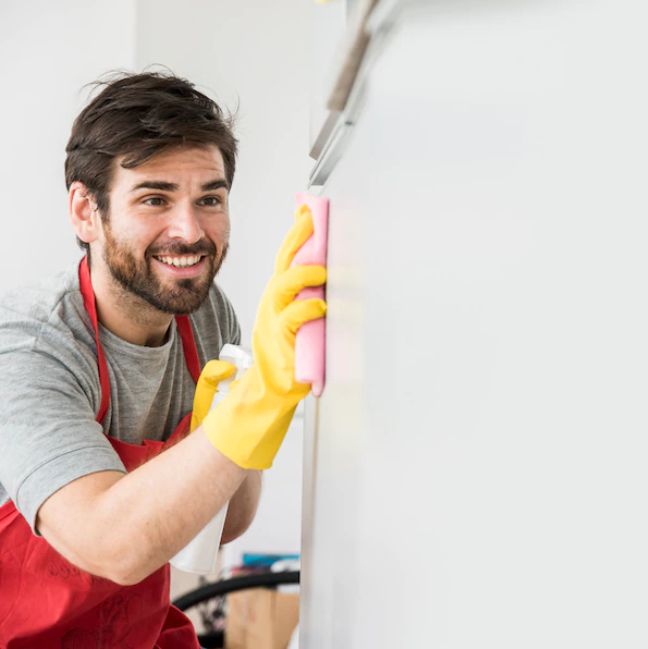 Wall Cleaning Services to Save Your Money and Time
How much time and money can you spend on cleaning the different walls or ceilings at your place? KK Cleaners promises to get it done at the best affordable rates and that too according to your time. Hence, no more delay in cleaning dirty walls when you can save your time and money!
We understand that no two places are the same. Hence, all you need is the personalized wall cleaning services from KK Cleaners. You don't have to worry when you can go for the different wall cleaning chores like painted walls, white walls, dirty walls, marble shower walls, etc., under one roof only.
We offer 100% customer satisfaction for all our wall cleaning services which are on the time. You don't have to worry about the walls as our team is trained for handling the different equipment and high-end cleaners. Hence, whether you're preparing to clean your walls for selling the place or want to make them shine, you can trust our painted walls cleaning services.
Our team uses green chemicals for all walls which are approved by the concerned authorities! 
Well, KK Cleaners is a well-known name in the cleaning industry. Also, we serve commercial and residential services to customers as per their high demands.
are more reasons to choose our company and our team. Have a look!
Get in touch with Experienced Wall Cleaners in Melbourne
We ensure 100% customer satisfaction with our professional and detailed wall cleaning services. When it comes to office and home, our team handles all about the walls at your residential or commercial properties. Our team is available around the clock and offers a range of cleaning services.
Our team of wall cleaners is verified, trained, and equipped with the leading tools and cleaners. 
Top-Class Wall Cleaning Experts at Your Doorstep
Our online support and flexible timings ensure that your walls are cleaned according to your needs. With our safe and eco-friendly solutions, it is easy to move into the place without worrying about pets, kids, or elderly persons. Not to miss is their speed and expertise when they come to your place to shine your walls like new! Are you searching for the best painted wall cleaning services in Melbourne? Well, KK Cleaners is right here to help you get the best look on your walls.

What Makes Our Cleaning Services Unique?
KK Cleaners ensure the most unique and high standard cleaning for your space. Doesn't matter whether it's your bedroom, kitchen, courtyard, workspace, or conference room; our team is comfortable in cleaning all spaces.
Now, let's have a look over our unique qualities. 
What Our Clients Say About Us?
It seems to be well, and worth it service by them. All cleaning work well. Cleaners make our washroom shiny
Wilbo Joe
The best cleaners I knew in my area. Clean my entire washroom and clean very gently so no dust particles
Wendy Bis
"This is the first cleaning assistance I've operated where I have no scruples whatsoever. I'm using this service again for
Sheldon Eva
"Amazing cleaning services. Cleaners take Approx 3 hrs to clean the kitchen but the end of the result is quite
Brooke
"KK Cleaners are amazing. They cleaned my kitchen so perfectly and removed every dust particle from the surface. I would
Mark Smith