#1 Garage Cleaning Services in Melbourne
Top Garage Floor Cleaner in Melbourne - Your Solution for a Clean & Clutter-Free Garage!
Is your garage cluttered or seem dirty mess to you? For a clutter-free garage, are you spending much time looking for the tools, equipment and chemicals to clean up the space? If all your answers to this question is "YES", then KK Cleaners company is the right spot for you. Depending on your size, scale and condition, we give you an approximate estimation of the price list and cleaning task. 
Our KK Cleaners professionals always make sure to implement the best and useful techniques for cleaning the garage. With the use of high-pressure steam, it deep cleaning every corner of the garage. When people in Melbourne area hire us, we makes sure to help you get rid of soiling, stubborn, paint, and mould. Our services gives you relaxation and leaves a positive feedback when done with the cleaning work. Apart from this, your garage will be wiped out in no time in an efficient manner. 
For a spotless, oil-mark free and shining garage, call our KK professionals Cleaners today and you just sit back and relax. We work for flexible hours and always believe in keeping our client's suggestions, requirements and needs on priority.
Get a clean garage space back with the specialized garage cleaning services in Melbourne!
Highly Customized Garage Cleaning in Melbourne
When it comes to garage cleaning in Melbourne, we are the most trustworthy and top rated cleaners. We specialize in various locations in Melbourne for cleaning garage floor at a reasonable cost. With our expert cleaning amenities, we take pride in serving the 5 star garage cleaning services all across the Melbourne. 
We have a dedicated professional cleaners that always take care of the clients requirement and needs of the local community. We at KK Cleaners, work for both residential and commercial setting. For top quality job, you can completely rely on our garage cleaning in Melbourne.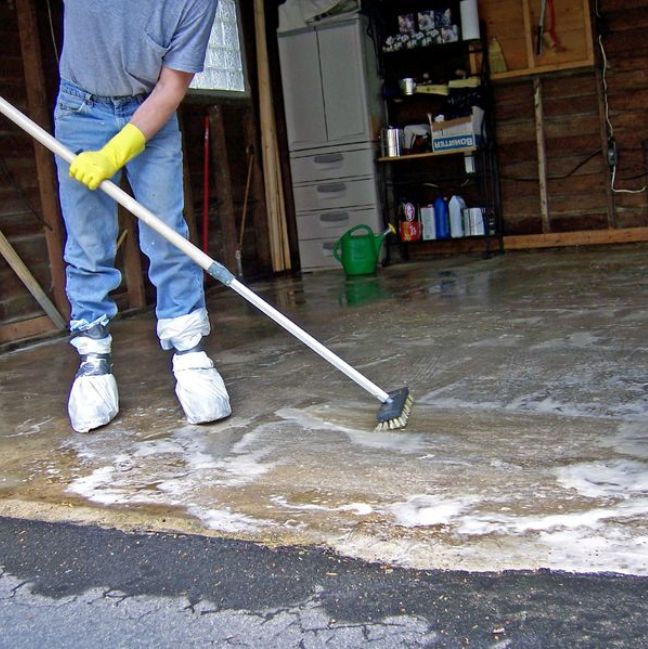 Why KK Cleaners is the Best Choice for Garage Cleaning Services in Melbourne city?
Do you have a busy schedule and often skip cleaning the garage? If yes, then we are your go-to garage cleaning firm in a very affordable price. To remove stubborn stains, it is always better to hire professionals rather getting disturbed by doing at your own. Hire passionate KK Cleaners in Melbourne & worry no further!
If you take our services of cleaning garage in Melbourne, we assure you will get 100% guaranteed results. We assure you the paint splatters, oily spots from leaked cars and other vehicles will be removed completely. The procedure of cleaning the garage starts with the most efficient machines using high water pressure. Being professional cleaners, we are completely aware of the fact that garage is a vital area of your residential and commercial setting. And that's why we are there for you. At KK Cleaners, we only hire well-trained cleaners who have years of experience in cleaning the garage space. When you hire us, you get the highest quality garage cleaning service in Melbourne. We take care of everything in our mind and always believe in a careful selection process when recruiting garage floor cleaners in Melbourne.
Why Choose Us as Garage Cleaner?
Well, KK Cleaners is a well-known name in the Garage cleaning industry. Also, we serve commercial and residential services to customers as per their high demands. are more reasons to choose our company and our team. Have a look!
What's Included in KK's Garage Cleaning Services in Melbourne?
On the said time, KK Cleaners team arrive at the destination and inspect what all is required for cleaning the garage. Along with the necessary tools and equipment, the garage cleaners wipe out all the dust and dirt from every corner. 
The high pressure helps to remove stubborn dust, mould and grime present on the surface, walls and objects. Without using any harmful or strong chemicals, the garage cleaners in Melbourne make sure to clean the space effectively through spray. KK Cleaners not only has the motive to complete the job, rather we focus on serving the top quality garage cleaning services in Melbourne.
Your Garage Cleaning needs, We are 100% responsible!
At KK Cleaners, we are active throughout work! Our experienced garage cleaners mainly target on time working and less time cleaning. Here, we always value our client's time and money. For price list, you will see we have an affordable rate list of garage cleaning service in Melbourne. 
With a deep garage cleaning process, our services speak more about building trust of our customers, getting the job done right away and do the dirty work for you.
In Melbourne, What Makes Our Cleaning Services Unique?
KK Cleaners ensure the most unique and high standard cleaning for your space. Doesn't matter whether it's your Bedroom, Bathroom, Kitchen, Courtyard, Garage, Workspace, or Conference room, our team is comfortable in cleaning all spaces.
Now, let's have a look over our unique qualities.
What Our Clients Say About Us?
It seems to be well, and worth it service by them. All cleaning work well. Cleaners make our washroom shiny
Wilbo Joe
The best cleaners I knew in my area. Clean my entire washroom and clean very gently so no dust particles
Wendy Bis
"This is the first cleaning assistance I've operated where I have no scruples whatsoever. I'm using this service again for
Sheldon Eva
"Amazing cleaning services. Cleaners take Approx 3 hrs to clean the kitchen but the end of the result is quite
Brooke
"KK Cleaners are amazing. They cleaned my kitchen so perfectly and removed every dust particle from the surface. I would
Mark Smith